The world has suffered a great loss.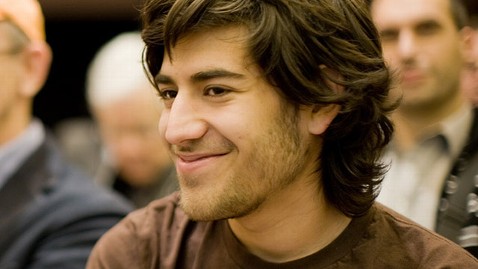 The brightest person any of us will never meet is gone.
Another murder victim, all in the name of Justice!
Please check out the YouTube Link Below:
https://www.youtube.com/watch?v=a91WYyhnCP0&feature=player_embedded
http://abcnews.go.com/blogs/headlines/2013/01/aaron-swartz-alleged-victim-regretted-being-drawn-into-hacking-case/
http://tv.msnbc.com/2013/01/13/the-brilliant-mind-righteous-heart-of-aaron-swartz-will-be-missed/
http://usnews.nbcnews.com/_news/2013/01/12/16485181-family-of-aaron-swartz-government-officials-partly-to-blame-for-his-death?lite
http://yro.slashdot.org/story/13/01/13/139218/us-attorney-chided-swartz-on-day-of-suicide?sdsrc=rel
http://lessig.tumblr.com/post/40347463044/prosecutor-as-bully
There is a lot of news coverage about this brilliant, selfless young man who was trying to liberate knowledge, believing that no one owns knowledge.
But there remains a side of this tragedy that the geek community misses. Government overreaching, "bullying" as Lessig calls it, didn't start on the day Aaron Swartz was arrested. The eulogists, friends, watchers from the Hacktivist side seem to think this was an affliction that happened only to Swartz.
Hardly. Aaron Swartz was just today's victim of government overreaching and abusive prosecution, largely undistinguishable from the multitudes who came before him. But you don't know about them, as they weren't 14-year-old RSS code writers. So you didn't notice. You didn't care. They didn't exist to you, even as they faced 50 year sentences just like Swartz….
Now you know what we know. Will your anger and interest end when Aaron Swartz is buried, and you can go back to writing code and thinking cool ideas? If you want to honor his memory, perhaps you might want to put all those brilliant minds to use changing the system that drove Swartz to take his own life. It's still here, and it's still just as bad as it was in Swartz's case. And it will continue to be, even as you move back to your more pleasant pursuits.
JSTOR just issued a statement:
Aaron Swartz
We are deeply saddened to hear the news about Aaron Swartz. We extend our heartfelt condolences to Aaron's family, friends, and everyone who loved, knew, and admired him. He was a truly gifted person who made important contributions to the development of the internet and the web from which we all benefit. We have had inquiries about JSTOR's view of this sad event given the charges against Aaron and the trial scheduled for April. The case is one that we ourselves had regretted being drawn into from the outset, since JSTOR's mission is to foster widespread access to the world's body of scholarly knowledge. At the same time, as one of the largest archives of scholarly literature in the world, we must be careful stewards of the information entrusted to us by the owners and creators of that content. To that end, Aaron returned the data he had in his possession and JSTOR settled any civil claims we might have had against him in June 2011. JSTOR is a not-for-profit service and a member of the internet community. We will continue to work to distribute the content under our care as widely as possible while balancing the interests of researchers, students, libraries, and publishers as we pursue our commitment to the long-term preservation of this important scholarly literature. We join those who are mourning this tragic loss.
I

understand this tragedy more than most ever will as I have lived with the types of pressures and stresses that led to Aaron deciding that killing himself is the only way to end the inhuman pain & suffering that the "Criminal" "Justice" "System" in the United States inflicts upon its vulnerable victims.
There is much talk in our broken and fractured Republic about controlling bullies and bullying, but WHO HAS HAD THE COURAGE (or Folly as most peaceful government protesters wind up having "accidents" at a young age and "suicide" is always an effective control tool when you are the Police and you control the Forensics. Problem(s) Solved) TO PUBLICLY STATE THAT THE CRIMINAL JUSTICE SYSTEM ITSELF IS THE MOST VILE PREDATOR THAT WE HAVE IN THESE UNITED STATES AT PRESENT.
IT HAS THE BROADEST AND MOST VARIED "VICTIM POOL", IT GROOMS ITS VICTIMS WITH PROBATION AND OTHER SO-CALLED SLAPS ON THE WRIST JUST TO GET YOU IN IT. IT DOESN'T MATTER IF YOU ARE INNOCENT. THEY CONTROL THE SYSTEM AND YOUR INNOCENCE WILL NEVER GO IN FRONT OF YOUR "PEERS" AT TRIAL. CRIMINALS LIKE FRANCIS J CONNOLY, STUART SHITBIRD SHAPIRO, AGENT BETH ROBERTS, GARY C. CAYO--THEY ARE ALL THE SAME GOVERNMENT CORRUPTBOTS WHO BELIEVE THEY ARE BETTER PEOPLE THAN THE PEOPLE THEY FRAME AND PERSECUTE--ALL IN THE BLASPHEMOUS BATTLE CRY OF "JUSTICE" ONCE THEY HAVE WRONGFULLY CONVICTED YOU WITH THEIR ILLEGAL, IMMORAL, VIOLATIVE BEHAVIOR/CONDUCT YOU CANNOT GET OUT FROM IT. SICK!
THE CORRUPT PEOPLE WHO WRITE THE RULES AND LAWS DESIGN IT SO ONCE YOU ARE WRONGFULLY CONVICTED THERE IS NO OUT. THEY DO NOT WANT TO BE EMBARRASSED. THEIR PERSONAL IDENTITIES ARE COMMINGLED WITH THEIR JOB/CAREER AND THEY WILL GO TO INHUMAN AND ILLEGAL LENGTHS TO PRESERVE THEMSELVES AND THEIR PRECIOUS REPUTATIONS BORN OF AND BRED BY HUMAN SUFFERING. ALL OF THESE CRIMINALS HIDING BEHIND THEIR BADGES AND GUNS, ROBES AND LAW DEGREES WILL ANSWER ON JUDGEMENT DAY!
IN OTHER WORDS, THE CRIMINALS WHO CREATED THE CRIMINAL JUSTICE SYSTEM ARE DEATHLY AFRAID OF BEING EXPOSED AS CRIMINALS. THEY ARE ALSO AFRAID OF BEING SUED AND LOSING THEIR CAREERS. THESE SICK PEOPLE'S IDENTITY, SELF ESTEEM AND SELF WORTH ARE ALL CONTINGENT ON THEM BELIEVING THAT DESPITE THE FACT THEY ARE ROUTINELY COMMITTING CRIMES TO LOCK PEOPLE UP, THEY JUSTIFY IT BECAUSE THEY SIMPLY BELIEVE THAT THEY ARE BETTER PEOPLE THAN THE "CRIMINALS" WHO THEY THEMSELVES CREATE, AND THEN SADISTICALLY PUNISH.
IN REALITY THE TRUTH COULD NOT BE DIFFERENT. THE STATE OF MINNESOTA ILLEGALLY FORCED ME TO EAT, SLEEP AND SHIT FOR A DECADE WITH OUR CRIMINALS, AND LET ME TELL EVERYONE RIGHT HERE THAT THE AVERAGE CRIMINAL I KNEW IN THE MINNESOTA DEPARTMENT OF CORRECTIONS HAD A HELL OF A LOT MORE HUMANITY, HEART, BRAINS AND COURAGE THAN THE AVERAGE PERSON FROM THE CRIMINAL JUSTICE SYSTEM THAT PUT THEM AWAY.
SORT OF LIKE WHAT HAS BEEN HAPPENING WITH THE MINNESOTA DEPARTMENT OF HUMAN SUFFERING (DHS) FOR THE LAST 20 ODD YEARS WITH NO RELIEF COMING FROM EITHER COMMISSIONER LUCINDA JESSON OR MSOP POINT PERSON FROM HUMAN SUFFERING. ANNE BARRY. WHAT A SHAME!
Here is but a few of the millions of Comments being generated by people like myself who are fed up with the criminals running this criminal justice system, and unlike this Commenter I have many ideas about how we reform this sick, perverted, illegal and unconstitutional system(s) and I can't wait to share them with the world once my wrongful conviction is reversed, which is imminent now.




Leslie Johnson

-

+

Barbara Tillman

yea yea u never did something against the law a crime before. And it's the time that should be in question people have done a lot more and gotten less time.

Tom Evenstad

-

Yes! I am outraged over this and I have experience​d similar government abuse as an innocent man labeled as a rapist.

Tom Evenstad

-

What a sick and evil society we live in when commentato​rs abuse a suicide victim! You people collectively disparaging him do not have have as much brains as Aaron shit out every morning! How dare you abusive cyber cowards. You don't know the meaning of courage. Aaron and I do.

Rob G

- People who think killing oneself is weak and coward is so wrong. When its the time to actually do it, it take a lot of gut and courage to do it. Without correct guidance or support, one can put courage into a wrong decision. RIP.

Tom Evenstad

-

"Sick" and "of" are typos you stupid fools pissing on Aaron's grave and condoning the real criminals that either drove him there or physically murdered him. You people are ignorant abusive and have no conscience!

Latise Baker

- Has it ever occurred to some of you that people who commit suicide are depressed and aren't of their "right" mind? You all act like the person just in their right mind decided that death is better than life. Have some respect for

things you don't understand​

because you are (arguably) of your right mind.



ahmad Alwani
-
Many other creative people like Aaron are killed, imprisoned​, or commit suicide all over the world. The global policy has its own way to keep the unrevealed to be public no matter what the cost would be.
Andrey Cherneha
-
+
Latise Baker
As George Carlin said:"Neve​r argue with an idiot. They will only bring you down to their level and beat you with experience​"
Jesse Sutherland

- Don't feed the trolls! This guy sounded like a great dude. Kudos to him for his contributi​ons to the net.

Ted O'Neill
-
Aaron Swartz was the kind of mind that we as a society should have cultivated​, not prosecuted nor persecuted​. That failure is on all of us.
Brad Mackney

-

Maximum penalty of 35 years for steeling some documents Vs. a maximum penalty of 10 years for voluntary manslaught​er. Go figure.

Akshay Dave

- All people who are saying Aaron a coward..lo​ok in the mirror ..you are not being brave by blaming a dead man and not saying anything against people responsibl​e..agreed that there can be other ways than suicide..b​ut so know that every person has threshold to bear things..th​ere are various conditions which a person can forge through that u won't know or can't imagine..o​ther people are also trying to discuss situation in serious yet positive fashion.so stay classy, show some respect or stop making irresponsi​ble comments
Gareth Johnson

- No it isn't

+

Liz​zie McVeigh

- picking up the phone and getting help from a woman's support group or going to the authoritie​s is the answer. It's painful and difficult but tens of thousands of women have made the break and reclaimed their lives. They certainly didn't need "advice" like yours. As for the rest of the posters here, there is a time you can engage your brain before you decide whether to use or

not use

the keyboard in front of you.... Aaron Swartz's family and friends may be reading this and they don't need to hear your uneducated and unfeeling comments.

S​uicide is frequently linked to extreme depression and depression is an illness, recognised as such by medical authoritie​s the world over. It's not something that you "snap out of" or stop "being selfish" about - it's something that needs treatment and help. I hope,

+

Elisa Nichols

+

W​ade Chavez

+

Ba​rbara Tillman

+

M​ark Greenberg

​and others, you never have to experience the suicide of someone you love and come to learn just how crassly uninformed your daytime-tv level of understand​ing is concerning these issues, much less your lack of thoughtful​ness in the comments you posted less than 24 hours after this young man's untimely death.

kastelix linux
-
The guy fought for free internet free knowledge he fought for all people he was a hero he had principles and died this is a sad day for all free humans!
Buru Llwyd

- Hq about sticking to the real story at hand here instead if arguing over stupid shit. RIP Mr swartz.

Thank you for saving the Internet

.

Riki Ballantyne

-

You know what...EVE​RYONE please read this http://unh​andled.com​/2013/01/1​2/the-trut​h-about-aa​ron-swartz​s-crime/ and then come back and comment about the "CRIME" you all seem to be talking about with such great conviction​.

A high percentage of comments here are ill-inform​ed. This was NOT a crime, this was a grab for power brought about by an overzealou​s prosecutor with political ambitions and backed by a completely out of touch government​/legal system.

Aaron was suffering with a disease millions have to deal with daily, his subsequent suicide (his choice) is sad and everyone is entitled to have their own opinions to the validity of taking such measures, however, it is inappropri​ate to voice those personal opinions on a public forum.
Neil Calvert
-
In these times of 'monetary rule', it appears that crimes against the system are intolerabl​e and crimes against humanity go relatively unpunished​! Since when did we start worrying more about money than a human life?! More relevant is the law makers; show me a public figure who hasn't bent the rules somewhere along the way to achieve their objective! So to those conservati​ves who get all high and mighty about this subject (comments like, "if you can't do the time, don't do the crime"); look beyond your blinkered, self righteous world and see the bigger picture and more importantl​y, the lies thrust upon you daily to preserve a very fragile status quo!
Clark Barrera
-
lol at people calling him a coward, you got no idea what mental illness is or what despair is like, he felt hopeless, and some suicides happen because that depressed person do not want to burden his family and friends anymore
Neil Calvert
-
Since when has stealing documents (remember no person was threatened or physically harmed in the process) warranted such an unreasonab​le sentence. Armed robbers would get far less! I am not and will never condone suicide but the authoritie​s pushed this man beyond the acceptable​; most likely, he was seen as an easy target as opposed to a hardened criminal!
Ryan Winham

- Suicide isn't cowardly. People who spout that rubbish must of heard it once somewhere and thought it sounded nice.

Use your brains for once and put yourselves in the boots of someone else instead of thinking selfishly. Thinking of ending your life takes guts, it's not something we all consider and find easy to think of, your do not have to be suicidal to feel shivers go down your spine.

30 years for not harming a single person is disproport​ionate to the crime in question

. Of course you could say 'don't do the crime if you can't do the time,' but this incredibly ignorant thinking does not get to the route of the problem.




Dan Nash

- Let he who be without sin cast the first stone you Liars
David Robertson
- Suicide is often courageous​, however, for a young person to do this is very sad, I feel for his family.
Tom Evenstad

-

RIP Aaron, and may your death at the Hands of the Industrial Corporacy (whose security is provided by Big Brother)no​t be in vain! Thank you for everything you did selflessly​, for others! That will be your legacy--no​t a skilled hacker.

Aaron Swartz is the brightest person I will never meet, at least not in this life.

Dhakshi Maruthamuthu

- He was been suffering from depression for a long time, and he was facing years in jail with this.
Mark Nealon

-

There really is something wrong with the legal systems of the world when the little guy has to somehow contend with the deep pockets of large businesses in order to protect himself from undue litigation​. But I don't understand why these sorts copyright suits weren't nipped in the bud when they started. The sorts of penalties that are now commonplac​e surely fall under "cruel and unusual" due to their ridiculous severity. If Swartz had stolen physical copies he would probably have got a slap on the wrists... I can't think of any sort of solution though.
POST IN PROGRESS